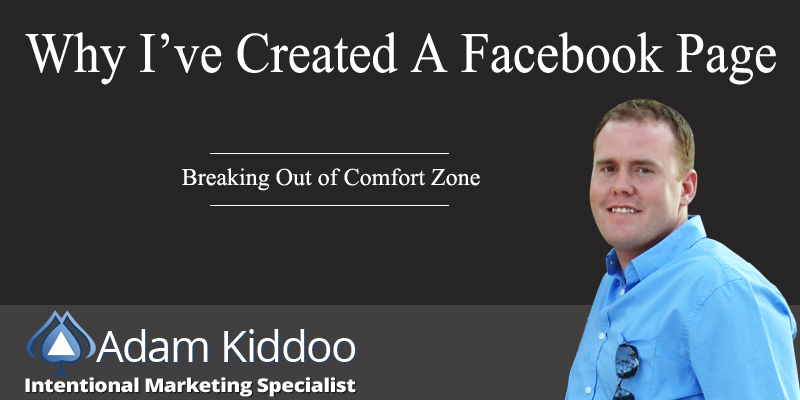 Some of you might be wondering why I started this 'fan page.'
For some time now I've been struggling with whether or not to create my own Facebook Business Page.
From a purely business perspective the choice would seem easy and obvious. Especially since this is how I make my living. I have now successfully created, developed & managed over 100 Facebook business pages for clients since 2010. This extensive background and experience has helped me to understand the great value that comes along with a Facebook 'fan' page.
My hesitation..
Those of you who know me know that I'm very humble. I ALWAYS want to be seen as humble. I'm as down to earth as they come. I never want to be looked at as someone who thinks they are "too cool for school" or "Mr. Big Shot." That's just not who I am. This is important because the last thing I want to do it to make it seem as if I feel that I'm better than anyone. I'm the same old guy, just trying to break out of my comfort zone to grow as a person.
Not Really a "Fan" Page
Before going too much further, it's probably worth noting they're not actually called "Fan Pages" anymore. They're called Business Pages & this is exactly why I've created one. I want to separate my business from personal on Facebook. I'm currently working on quite a few new things and am going to be sharing a lot of new blog posts, videos, podcasts, etc and I didn't want to wear out my friends, those who could care less about all of this "marketing hoopla."
Most of my close friends don't even really know what I do as a career as I've kept to myself the last few years. I'm at the point now where I want to share my knowledge and I want to help inspire others to take action and live their lives to the fullest. What good is all this new knowledge that I've worked so hard to gain if I just keep it all to myself?
Practice What I Preach
For the longest time I've been so focused on developing and deploying marketing efforts for my clients, I have spent little or no time and effort on marketing my own endeavors, but that's all about to change. I educate business owners regularly about how important Facebook and other social sites are to their marketing efforts. According to recent reports, there were 1.28 Billion users on Facebook. 60% of users log in at least once a day & the average time spent on site per visit is 20 minutes. In a nut shell, people LOVE Facebook. Some would be on there all day if they could.
Traditional Marketing Is Changing Rapidly
The traditional marketing mix is changing rapidly and has quickly shifting toward the Internet and social media marketing. Having a Facebook business page is very affordable and an easy way for you to build credibility in your industry. It just makes good business sense to build and grow your networks online. People who don't know you very well are more likely to "Like" your page, than they are to send a friend request to your personal profile. Facebook also gives you analytics behind your business page. That way you can see how many people you are reaching and how people respond to your different styles of posts. This allows you to better understand what your audience enjoys hearing from you.
Advertising
As mentioned earlier, the biggest reason I've created a Facebook Business Page is because I'm going to start marketing my products and services. Facebook advertising is very affordable (if you have a clear objective and know what you're doing) to the point where you can reach thousands of targeted consumers on a very minimal budget.
When you have a Facebook Biz Page you can get those targeted prospects back to your page where they'll hopefully Like (or subscribe) to your page. From there you can continue to communicate with them, stay connect & stay top of mind.
Instead of the old ways of advertising where we were pushing TV and radio ads at consumers all day long, social media gives us the chance to play on the same field as consumers. You are now able to pull customers towards you by sharing knowledge about your specific industry, by entertaining them, and by being open & honest.
With Facebook and other social networks we are now able to open up a communication channel where customers can easily contact us on a public forum, which leads to establishing greater relationships with those customers. It doesn't get much better than that.
Passion For Educating
For the longest time I felt very uneasy about opening up and sharing my knowledge because I worked so hard and spent thousands of hours learning it myself. In my selfish way of thinking I wondered "why would I give others the blueprint to everything I've learned?"
Yet, while living in Topeka I had the AMAZING opportunity to work with an Advertising Agency which had been helping clients grow their business for over 35 years. While they were kind enough to share everything they knew about advertising, marketing, copywriting, and branding; I took every free minute I had to learn about social media, internet marketing, and the marketing industry in general. If they held back and didn't share what they know, I wouldn't be half the marketer (or the person) that I am today.
Now, after these years of specializing in social media marketing, I have grown and changed, and more than anything I have a burning passion to inspire businesses owners and consumers alike to actively seek new information and to strive for growth. The things I know and have learned over these past few years can really help business get to the next level. I've learned from listening, watching, reading, doing … and now I'm going to learn from teaching.
I'm breaking out!
With all of that said, I do hope you'll join me on my journey by Liking my business page to at least give it a chance. I'll not only be sharing insights on how to better use the internet to market yourself or your business, but I'll also be sharing motivational quotes, tips on how to become a better person, and will also be sharing instructional videos on how to generate extra revenue online. There are many, many new and exciting ways to grow your revenue through using the Internet, and if you're not learning and taking advantage of one or two of them, chances are you could be really missing out.