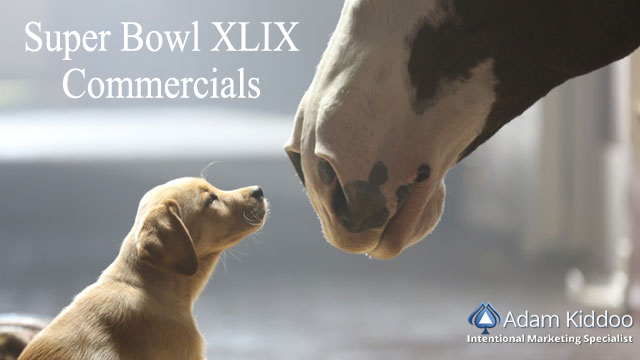 First of all, WOW, what a game. I had a hunch that Seattle was going to pull out the win heading into it, but my hunch didn't quite pan out. The Seahawks had some very strong momentum coming off of their miracle comeback victory over the Green Bay Packers in the NFC Championship Game. They came back from a 16 point deficit which was the biggest comeback in a conference title game.
Their miracle momentum almost carried them to the Lombardi Trophy, but they came up only 1 yard short. I'm sure we'll be talking about the final play of the game for years to come when Russell Wilson threw an interception at the goal line with 20 seconds left. Why in the world would they throw a slant pattern into at congested middle when Seattle has one of the best (if not the best) running back in the league, Marshawn Lynch? Marshawn could have pick up that last one yard against the New England Patriots in his sleep. I have my own theory about why they called this passing play, but that's for a different conversation at a different time.
Super Bowl Ads
Okay, so now for the Super Bowl ads of 2015. Overall, I have to say I was pleasantly surprised about the overall ads this year. Most people will disagree because they've become used to seeing over-the-top commercials that simply try to use their commercial as entertainment to the viewers. In the past few years, Super Bowl ads were designed for "shock value." These commercials were designed specifically to "shock and awe" the viewer in hopes that their commercial would stand out and be remembered. These ads are often times off-the-wall and don't do their job of making us feel a certain way about a product or a company. They might be fun and get people talking, but for the most part we'd only talk about the actual commercial and will forget entirely what company was behind the ad. This year was different.
Advertising Designed To Create Emotion
A lot of this year's commercials were designed to draw on or create an emotion from the audience. When we can create advertisements that the audience can relate to or feel a strong emotion towards, we will likely remember the company or products, and will have a stronger connection with that said company. Take for example Budweiser's (Anheuser-Busch) "Lost Dog" commercial where a cute little puppy gets lost and is almost attacked by a mean looking wolf. At the last moment, the Budweiser Clydesdales break out of their barn and come to the rescue. This was my favorite commercial & even though I'm a softy, this did almost bring a tear to my eye. I became a bigger fan of Budweiser after watching this commercial.
Last year Budweiser ran a similar Super Bowl ad where a puppy and a Budweiser Clydesdale create a strong bond, which in turn creates a strong bond between the owner of the Clydesdale and the owner of the puppy. This "Puppy Love" commercial got great reviews during last year's Super Bowl, so Budweiser decided to stick with the same theme. Smart move.
The Bigger Picture
In total, there were 61 commercials this year, each of which cost $4.5 million dollars per 30 seconds of advertising space. This was a record for priciest 30 second commercials up to date. When you spend that kind of money on advertising, you better make sure your commercial makes an impact on your audience.
Most Effective
Another great commercial this year that was very effective, was from Always Feminine Products' Like A Girl commercial. Always spent their advertising dollars for what was sort of a public service announcement style commercial, showing that they truly care about their customers and all females in general. This ad screams, "We've got your back, girls. Don't let others degrade you, discourage you, or make you feel insecure." Again, they didn't have to use slap-stick humor, or random antics to get the audience's attention.
Always was smart and used emotional cues to connect with their audience. Not only was this commercial designed to gain product or brand recognition, but for creating a shift in people's minds about how we possibly degrade girls and women alike by the things we say, sometimes without even realizing it. Women all over the world are thanking Always brand for shedding light on this issue. This commercial created a shift in my thinking to where I'll no longer use these degrading references. In a world of social media posts and fast paced communication, we really need to do a better job of watching what we say. I'd rather choose my words to empower those around me. This message was well received by Super Bowl viewers.
Along with the emotional ads this year, you'll always find advertisers trying to win their audience over with the use of humor. Again, I'm glad to see most advertisers shied away from the slap-stick stupid humor, which leaves a portion of your audience feeling disturbed and the rest saying "I don't get it." Regardless, humor is a great way to draw an emotion on your audience if used properly. Snickers had a great ad that played to a large portion of the Super Bowl audience who is familiar with the Brady Bunch. Also, Bud Light brought back another childhood memory of mine in letting someone who was "Up For Whatever" play a life sized version of PacMan. Damn, that would be cool.
A Lesson To Be Learned
For those of you who run a business or are involved w/ advertising and marketing, you can learn a valuable lesson here. A good percentage of the businesses who we're spending big bucks (again, $4.5 million per 30 seconds) chose to focus on creating an emotional connection with their audience. Yes, there were still some ads that were silly (Loctite super glue where a lot of "not so attractive" people were randomly dancing around wearing fanny packs), some ads that just relied heavily on celebrity endorsements (T-Mobile's commercial w/ Kim Kardashian and another of theirs with Chelsea Handler and Sarah Silverman), and some that played on well known fables and old sayings (Doritos' when pigs fly commercial and Mercedes-Benz's Tortoise & The Hare) but for the most part these businesses understand that there is a shift in what works best when targeting consumers.
Create an emotion and in turn you'll create a stronger connect with your audience.
Weight Watchers used their advertising space to give us a glimpse of how society is programmed to think bigger and super sized portions are ideal, greasy & convenient food is sexy, and the fact that it is less expensive if we buy food in bulk. No wonder we keep gaining weight. The end the commercial says "It's Time To Take Back Control," shows us a link to weightwatchers.com, and offers "Help With The Hard Part." This commercial wasn't design as much to pull our emotional strings, but to help us identify the problem and offer a solution. This ad is pretty genius from a marketing psychology perspective. With all of our bad eating habits, Weight Watchers wants to offer a solution.
Other Notable Super Bowl Ads
Nissan's commercial playing the song Cat's In The Cradle while showing a race car driving father doing his best to juggle his home and work life. It was a touching scene at the end when the father and son get together, but the Twitter universe was quick to point out an inconsistency. The singer of the song Cat's In The Cradle, Harry Chaplin died in a car wreck (back in 1981) and Twitter users felt that Nissan was wrong by using this song in a "car" and "race car" commercial. There was even a wreck scene in the commercial. I'm sure Nissan is somewhat regretting their decision after the backlash the received on Twitter.
I also really enjoyed Dodge Challenger's 100 Year Wisdom commercial where persons who are 100 years old or older share their wisdom and give advice on how to live a better, more fulfilled life. Dodge's tagline at the end said, "You Learn A Lot In 100 Years… Here's To The Next 100." Without flat out saying it, this ad tells the audience that Dodge has age-old wisdom and tons experience in which they're only getting better. The commercial draws you in and makes you feel that Dodge is "the expert" which builds more credibility in their company. You could learn a lot from someone who's been around for 100 years. One of the last speakers also said, "Never Forget Where You Came From." Pretty neat commercial if you ask me.
Social Media Use During The Super Bowl
I could go on and on as I love talking about advertising and marketing, but I'll cut it short here. I do want to say that a lot of commercials did a great job of tying in social media w/ their ads, mainly with the use of #hashtags. Hashtags on Twitter definitely help with the overall reach and allows viewers a place to carry on their conversations.
I would have definitely liked to see more Facebook and Instagram icons to remind consumers to find these brands on these most popular social sites as well. Most consumers are still spending a majority of their time on Facebook and now on Instagram, so it would have been wise to use their $4.5 million dollar commercial to get some of these 110 million views to subscribe to their social media channels. That way they can keep these customers engaged well after the Super Bowl buzz is over. This is how to get the most bang for your buck.
Here are a few quick statements about social media and the Super Bowl:
Facebook said this was "The Most Talked About" Super Bowl ever with 65 million people discussing the game.
Twitter saw an increase as well. 28.4 million tweets (up from 24.1 million last year) about the Super Bowl, which also set a new record for Super Bowl tweets.
YouTube stated "People watched more game-day ads and teaser videos than ever before." Data released by Google this morning showed we spent nearly 4 million hours watching these game-day ads and teasers.
Wowzers. Overall I'd say Super Bowl XLIX was a huge success.