Google's Mobile-Friendly Website Algorithm Changes April, 21st 2015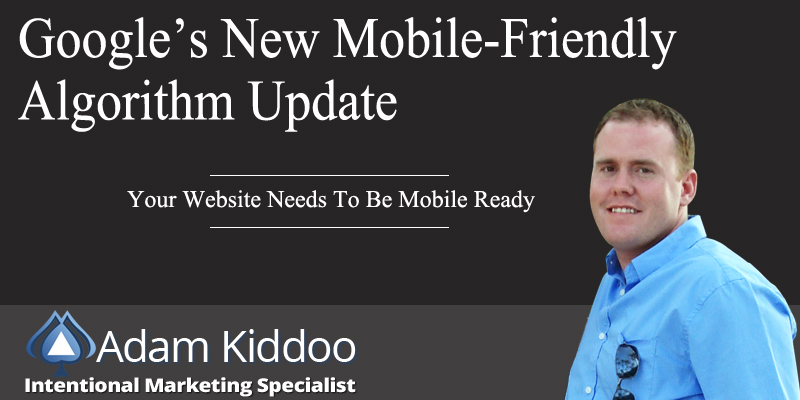 In the internet marketing world when Google tells you to jump, we ask "How high?"
Well, Google just told us to jump.
The search engine giant announced back in February that on April 21st, 2015 they're rolling out a new mobile algorithm which places a higher emphasis on ranking websites that are "mobile-friendly."
Does this mean on April 21st that you're website will completely disappear from the first few pages on Google if your website is not mobile optimized? Not exactly… BUT it could.
What The Experts Are Saying
An expert from Google's Webmaster Trends team recently stated that the upcoming algorithm change will have more of an impact in the mobile search results than when Google recently updated their desktop search algorithm to Panda and also Penguin just a couple of short years back. That update changed the game completely for a lot of SEO experts. So saying this update will have "more of an impact" means Google is putting a pretty astronomical emphasis on this new mobile algorithm update.
These days, for the most part we are seeing searches divided by just about an equal 50%-50% split between mobile and desktop/laptop searches. The number of mobile searches has obviously been increasing steadily over the last few years, so you can expect to see the number of searches performed on a mobile device taking a demanding lead in Google search in the very near future.
Is your website mobile optimized? Take Google's Mobile Friendly Test
Google's Emphasis on Customer Experience
Google puts a HUGE emphasis on their customer's overall experience with them. They know all too well how frustrating it can be for consumers to have to scroll or zoom in on a mobile device because the website's text and links are way too small to read. From there, the visitor attempts to click on a tiny, tiny little link only to have to do the exact same thing on the very next page.. and the next page, and the next after that. As consumers, we now want our information faster and faster and having to deal with a website that is not mobile-friendly, it's just not fun to say the least.
In years past when Google makes a change to their algorithm, it majorly affects the rankings within Google's search. There was a point in time where "SEO Gurus" knew every trick up Google's sleeve. They knew how to manipulate their search engine optimization (SEO) results while flying under Google's radar. Back then we were able to use "white hat tactics" (good in Google's eyes), "grey hat tactics" (flirting w/ the edge of good & bad), and even "black hat tactics" (manipulating & very bad in Google's eyes) to make their websites rank at the very top of Google's search for certain keywords.
Within the last few years, Google decided to clean up all of these tricks & tactics and designed an algorithm specifically with their customer's experience in mind. At the end of the day, Google wants to make sure they keep their visitors happy so that we'll continue using Google for our search needs. If Google allowed crappy, spammy and scammy websites to get to the top of their search just because they were able to game the system, then Google would risk their customers becoming annoyed and possibly end up giving another search engine a try.
Google wants us to also put an emphasis on our customer's experience as well when they visit our websites. If we care about your customers, like we should, we won't have an issue with making these changes because it's just the right thing to do.
So What Does This Mean For Your Website?
Yes, it's possible that you could keep your exact same ranking on Google without having your website optimized for mobile, but on the other hand why risk it? Just imagine in a few short months or years of neglecting to create a mobile-friendly version of you website for your customers; who's to say that your website won't fall out of the rankings completely.
To be quite honest, no one is exactly 100% sure how much of an impact this algorithm change will have right off the bat to "non-mobile friendly websites." There are other factors that come into play with Google's mobile search results, but you better believe that when Google "suggests" that you make your website mobile-friendly, then you better not take this suggestion lightly.
Imagine for a second that you're ranked #1 on Google for highly used search term within your industry. How would it impact your business if every one of your competitors decided to take Google's warning and made sure their websites were mobile friendly, but you decided you didn't have enough "time" to deal with it?
What if just for having a mobile friendly website, ALL of your competitors now outrank you? You get bumped to the 3rd or 4th page within Google's search, which is the land of the lost and forgotten since hardly anyone travels that deep into a Google search. It's been said that less than 10% of people advance to page 2 when searching Google. Crazy.
Now, I'm not saying all of this just to scare you.  I just want you to be prepared and to able to see the worst case scenario since we don't know exactly how much this will change the game. Either way, as the years roll on Google will definitely put more and more of an emphasis on these mobile friendly sites, so in this case you should too.
We Have A Solution For Your
I wasn't planning on adding a little sales pitch here at the bottom, but the truth is I'd be dumb not to. I took a short sabbatical from website development last year to focus on other projects, but over the last few months my web team and I have been cranking them out. We've worked together for almost 5 years now & we are very proud of each and every website we provide.
Mobile Friendly Website Design
If it's time to update your old outdated website, then please feel free to contact us. We'll make sure you're website is clean, trustworthy, professional, and we'll also make sure your website is mobile-friendly and looking good on all devices.
If you are in the market for a new website, here is a list of
6 Questions You Should Ask When Hiring A Web Designer
Ready for a Quote?
Click here to contact us about our website process