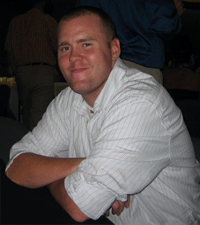 I've always been the creative type and am a nut over marketing psychology. I love working with others and have a passion for helping businesses grow.
For as long as I can remember my goal was to one day establish a marketing agency where I could have creative control over marketing communication & messaging. Little did I know, this goal would be within my grasps much earlier than ever expected.
I may not have gone where I intended to go, but I think I have ended up where I need to be. -Douglas Adams
My Story
I went to Pittsburg State University to study Communication w/ an Emphasis in Advertising & Marketing. I was sitting in class one day, and I got to wondering what is happening to all my traditional media advertising platforms? TV now offers TiVo & DVR's where you can skip commercials, radio now has to compete with commercial free radio, Mp3 players, iPods, & now our phones are popular for listening to music. It seems traditional media exposure is decreasing, while at the same time their prices are still increasing. And what about the newspaper? People now have this thing called the "internet" where they can quickly keep up with local news and information.
Right then and there I knew I was at a crossroad. Do I bail out on my pursuit of establishing a marketing agency? Or do I try to find new ways of reach consumers. Instead, I decided to take path of least resistance and submerge myself into learning everything there was to know about the internet. I was bound and determined to find ways of reach these folks while they're online. Luckily, new marketing opportunities started to arise online and I was right on top of them.
I am proud to now offer a variety of new media services including social media, Google marketing, mobile marketing, website design & development, email marketing, lead generation & creative content marketing. Don't get me wrong, I continue to dabble in the traditional media world as well, but it's just that new media can be very affordable and very effective if done right. More than ever before, business owners are interested in focusing their time and money into reaching their specific local audience, rather than reaching broad & general demographics. This helps to reduce cost and increase ROI.
All-In Marketing – New Media Agency is here to provide you with tips & tricks to enhance your local marketing efforts. Look to us us as the Marketing Ace up your sleeve. Don't forget to join our email club to stay up to date with new internet marketing tips & tactics.