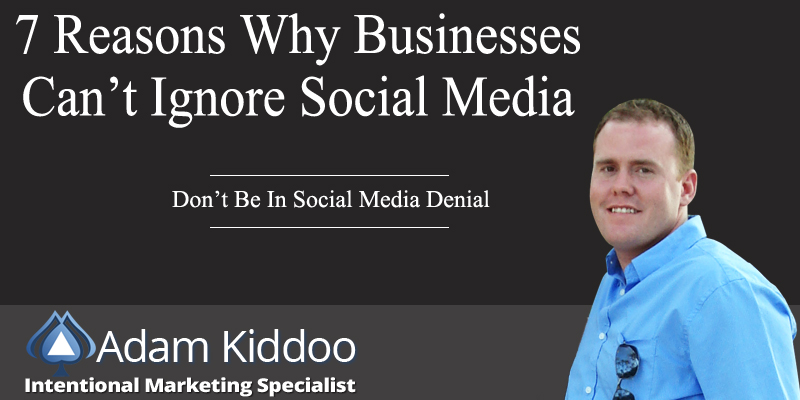 Has your business been ignoring social media? Do you think social media is just a fad that will be extinct within the next year or two? If you answered Yes to either of these questions, you might be suffering from a case of social media denial.
In a recent interview with TechCrunch, Facebook's COO Sheryl Sandberg stated that 175 million people log into Facebook EACH DAY! Also, if you think your target market is not using Facebook and other social sites, you're sorely mistaken. In fact, the age group of consumers 50 years old and older are the fastest growing demographic online today.
Your business needs to fish where the fish are and here's why:
1. Awareness
Awareness is the top layer of the sales funnel. If consumers aren't aware that you exist, how are they supposed to buy from you? Social media is a great way to affordably build up your brand awareness. I don't have to be the one who tells you that your customers are spending a TON of time online these days. Get out there, get active, and create awareness. If you're not using social media to get in front of your prospects and staying top-of-mind, chances are your competitors will.
2. Affordability
If you're a small business with a brick & mortar location, chances are you've spent hundreds if not thousands of dollars in the past on traditional media such as radio, TV and newspaper. Sometimes it works, sometimes it flops, and other times you had a hell of a time tracking it and just weren't sure. Now due to DVR's, commercial free radio, the ability to play music on our phones, and the fact that there are soooo many different options out there for consumers to tune-in, your ads on these traditional platforms are getting less exposure.. while their prices continue to rise. Most social media sites such as Facebook, Twitter and Instagram are free to use. If you want to greatly extend your reach, however, you can run advertisements on these social sites, which are VERY affordable at this time and if done right they can be VERY effective.
3. Word of Mouth
Word of mouth is bar–none your best form of marketing. It always has been and always will be. With that being said, people LOVE to talk about Facebook. It cracks me up every time I hear someone say, "I saw that on Facebook." Use social media to educate your audience about your products and services, and turn them into your greatest brand evangelists. Also, create content that gets your audience engaged and talking. Go the extra mile in providing something of tremendous value to your social media customers and they'll thank you for it by spreading the word. With social media you can put your word of mouth marketing on steroids!
4. Trust and Credibility
Building trust and credibility can be achieved by being open and honest with your social media networks. In business, we are bound to make mistakes from time to time. If someone calls you on it, don't hide by deleting their comment. The number one reason why business owners are hesitant to get their businesses on social media is their fear of negative feedback. How are you supposed to learn and grow without enduring some constructive criticism? Tackle the situation head on by thanking the person for their comment and address their issue. If you don't tackle the issue head on, that person could become a ticking time bomb where it's only a matter of time before they come back and post something negative again. Defuse the bomb by showing you care, and you'll regain their respect as well as the respect of others who noticed how you handled the situation. There's nothing to fear. It's as simple as that.
5. Lead Generation
Social media is a valuable tool for creating new leads. Just because someone joins your social network doesn't mean they'll automatically turn into a new customer. They're there to see what you have to offer. Educate them on why your products/services are best and entice them to give your business a try. Use social media to turn your fans into email subscribers by having them opt in to your list. Email is a great place to stay connected and engaged with your audience. Use email to entice them to take action and become a customer.
6. Customer Loyalty
Creating customer loyalty should be one of your main areas of focus in business. You spend so much time, energy, money gaining a new customer, but if you don't provide them with massive value, chances are they'll continue to shop around until someone does. If you get consumers to "Like" your Facebook page or follow you on Twitter, that's only the first step. Next, you need to share valuable info about your business, entertain them with fun facts about your industry, and provide special offers and incentives exclusively for them. Social Media Managers have a saying that you need to "Edutain" (Educate & Entertain) your audience before you can ask for the sale. If you have customers following along on Facebook and taking advantage of your special offers, chances are you have them locked in. They might get curious and check out competitors from time to time, but if they're not getting as much value from your competitors, they'll come running back. Build a relationship with your consumers online and they'll turn into lifelong customers.
7. Marketing At The Speed of Thought
Marketing happens fast these days. If you have a new product/service you'd like to push, you'd have to contact your traditional media outlet, discuss ad copy, fine-tune ad copy, have them produce the ad, and in a month or so later your ads finally airs. By then you have something else you'd like to push, so you're always behind. With social media, you can snap a few pics, draft your posts and press send. If your product or post is compelling enough, your fans will talk it up and share it on down the line. Which do you think is better?
It's never too late to start, but every day that goes by your competitors might be using social media to gain the advantage. Social media is not a fad, and it's not going away anytime soon. I can't stress this enough that you really need to put more of an emphasis on becoming more active on social media if you haven't already. From there, build up your networks, provide them with value and stand your ground.
Again, if you're not engaging with your customers online, chances are your competitors will be. If you're interested in using social media for your businesses but don't know where to start, I'm offering a free 30 minute consultation for a limited time.