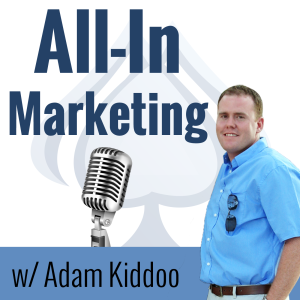 Want to increase your revenue & start living a stress-free life? Let's connect.
In today's episode of the All-In Marketing Podcast I'll cover the 5 Things You Should Do Every Day!
Life is too short to not enjoy yourself, but at the same time we.. definitely need to learn discipline in order to reach our potential.
In keeping this list short & sweet to only 5 things, you'll be able to incorporate this list into your life with no problem at all. You're guaranteed to feel better about yourself and you'll be able to find more joy in life in the process.
I highly recommend that you listen to the podcast as I cover each item in greater detail, but I'll go ahead and list the 5 things here as well in case you're in a rush.
Have fun

We get so wrapped up in life. We need to make sure we're not taking life too serious.

Do Something Nice for Someone Else

There's no better joy than to see a smile on someone else's face and to know that you put it there. Create a ripple effect and pay it forward. Help others in order to help yourself.

Ask For Help

It's the hardest thing for some people to do. It's hard for me. I want to give, give, give… but sometimes I have to ask for help in return. It's usually not a big deal after I do. You are NOT a burden; your time is valuable as well.

Do Something Healthy

I'm not asking you to make a huge change in your lifestyle or diet, but do simply make it a point the do something healthy every day. Eat a smoothie, substitute that burger for a salad, go for a walk w/ a co-worker, or play frisbee. Whatever it may be, get your butt out of your chair and do something healthy.

Reflect On Your Day

What went well during the day? What could have went better? Look back at all of the good things you accomplished. Didn't get much done? Well, now since you know you're going to reflect on your day again tomorrow night, you'll know you'll definitely push to accomplish more in order to feel satisfied. Do this and you'll be able to better hold yourself accountable each day.
And that's it! Do these 5 simple things every single day and you'll enhance the quality of your life in no time at all. Keep things simple and make the little changes in your life that will have a HUGE impact through time. You deserve better, so get a little stubborn and start these 5 things now! 🙂

Subscribe on iTunes, Stitcher Radio or TuneIn
The All-In Marketing Podcast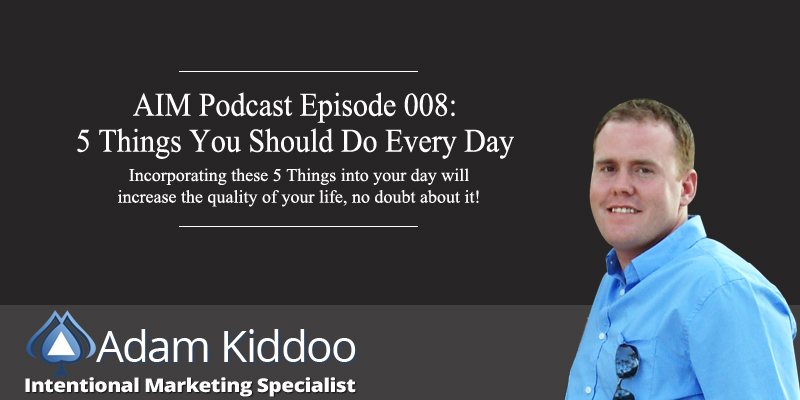 Other Episodes You Might Enjoy
WordPress Websites w/ RJ McCollam
Networking & Marketing w/ Todd Meisler

Share the Love
If you enjoyed the show, please rate it on iTunes. That helps to spread the word in order to get other listeners to find the podcast & tune it. Thanks in advance for your rating & review!